White vinegar is a unicorn product that's useful for a myriad of things. On top of that, when you consider that it's totally natural and cheap, it's pretty much a miracle jug of awesomeness.
Growing up, my mom used to dole out chores to me and my siblings every weekend. One of us would get to clean the glass and windows with that famous blue liquid spray. But once a year, when spring cleaning rolled around, out came the vinegar and newspapers. We always grumbled and completely doubted that newsprint and vinegar would somehow make our windows shine, but they did!
Today, white vinegar is my go-to for so many things around our farmhouse. I love that it's completely natural and not full of chemical ingredients. After moving to our fixer-upper farmhouse, I quickly cleaned up my cleaning act and quit using the chemical-laden cleaning supplies I never used to think twice about. Not to mention, cleaning supplies are expensive and vinegar is definitely not. Using vinegar instead will not only save you a bundle but will also give you some much-needed peace of mind.
White Vinegar for Your Laundry
Workout Clothes Refresher
As someone who loves running, biking, and honestly anything active, I can attest to needing a powerful laundry aid to get rid of that lovely workout smell. It sounds weird but adding some in the rinse cycle powers out the odors. Although vinegar has a distinct odor, once you toss those clothes in the dryer, the vinegar scent totally dissipates.
Musty Odor Eliminator
Ever accidentally toss clothes in the dryer and forget to turn it on? Me too. Oops! Whether you have towels that have a lingering, musty odor or you forgot to turn your dryer on, doing a quick rewash of musty clothes followed by a rinse cycle with a little vinegar added will freshen them up.
Fabric Softener
Strange but true! Add a half cup of white vinegar instead of fabric softener to your laundry and your towels will be super soft. I rarely use fabric softener after learning and taking advantage of this trick.
White Vinegar in the Bathroom
Tub and Shower Cleaner
I have a dishwashing wand that's filled with a squirt of Dawn and equal parts water and vinegar. Using that instead of chemical cleaners makes our tubs and showers sparkle and it rinses cleanly. Best of all, there's no scrubbing involved!
Shower Glass Cleaner
When we remodeled our upstairs bathroom, we added a beautiful glass shower door. Keeping glass doors clean and spot-free can be a challenge, but I've found that spraying vinegar on the glass doors and wiping them right after with a microfiber cloth does the trick.
Drain Cleaner
To freshen and unclog drains naturally, sprinkle a cup of baking soda over your drain and add an equal amount of vinegar. It will fizz and bubble. Let that sit for a few minutes and then flush with hot water.
Shower Heads
Hard water and limescale can build up and clog your shower head. To unclog them safely, fill a plastic quart-size bag with vinegar and immerse your shower head in it, keeping it closed with rubber bands. After an hour, it should be practically good as new!
Hair Rinse
One of my favorite ways to deep clean my hair, remove product buildup, and add some shine is to rinse my hair after shampooing with 2 tablespoons of vinegar in a cup of water. Such an easy thing!
White Vinegar in the Kitchen
Remove Grease on Your Stovetop
I love cooking, but I hate grease on my stovetop. Spraying the stovetop with equal parts of water and vinegar and wiping it immediately with a microfiber cloth keeps it shiny clean and also removes cooking odors. Win, win!
Coffee Maker Cleaner
Buy a chemical-laden coffee maker cleaner? No way! Instead, once every six months or so, fill your coffee pot one-third of the way with vinegar and the rest with water and brew it. Let it sit for 15 minutes, then run two more pots with just water. By then, the vinegar will be completely flushed out and your coffee maker will be squeaky clean. This trick also works on pod coffee makers.
Dishwasher Rinse Aid
Forget those tablets, Your dishes and glasses will be sparkling if you fill that little rinse aid cup with vinegar instead.
Cutting Board Disinfectant
My cutting boards are used every single day. Clean as I try to keep them, they carry a lot of germs. Wiping them down with white vinegar and letting them air dry is the perfect disinfectant.
Produce Cleaner
Even though we stick to organic produce as much as possible, anything that comes home from the grocery store or gets pulled out of my garden gets dunked into a large bowl of water with a few drops of vinegar added. No need to buy the bottled stuff at the grocery store.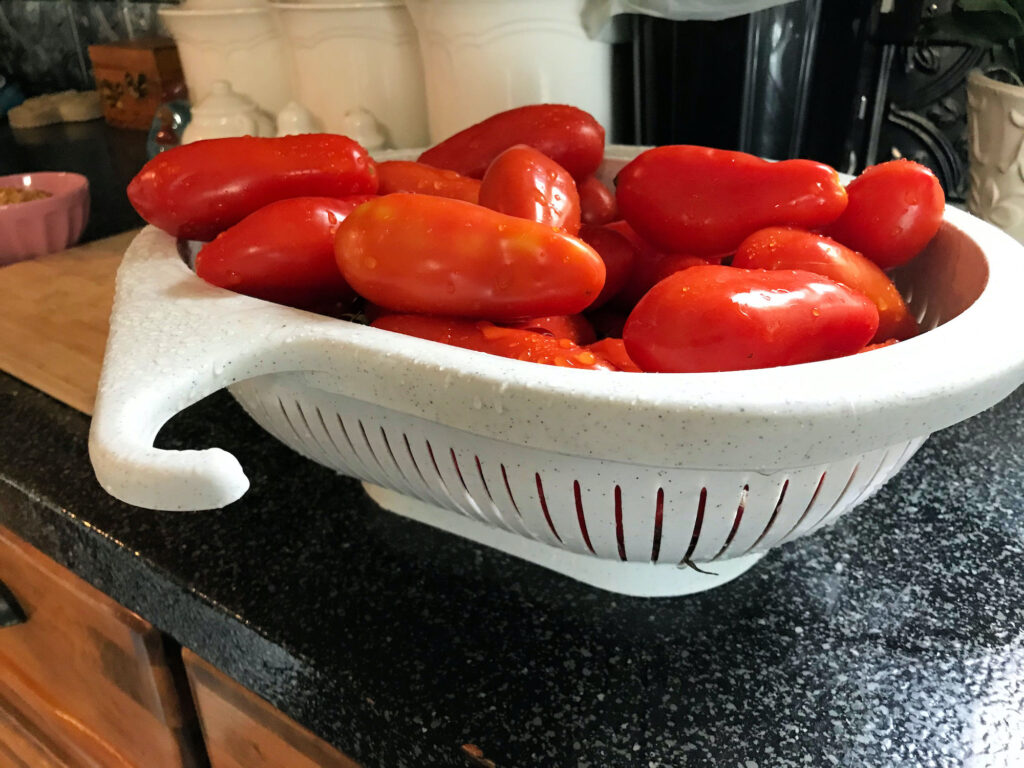 Other White Vinegar Uses
In addition to the above, straight vinegar is an amazing, chemical-free weed killer, especially this one. I also swipe it on mosquito bites and any itchy areas of my skin after gardening to take that itch away. It's also an excellent way to draw sunburn out of your skin.
See all the reasons to love vinegar? Do you use white vinegar in your home beyond window cleaning? I'd love to hear how you've put it to use in your home too!