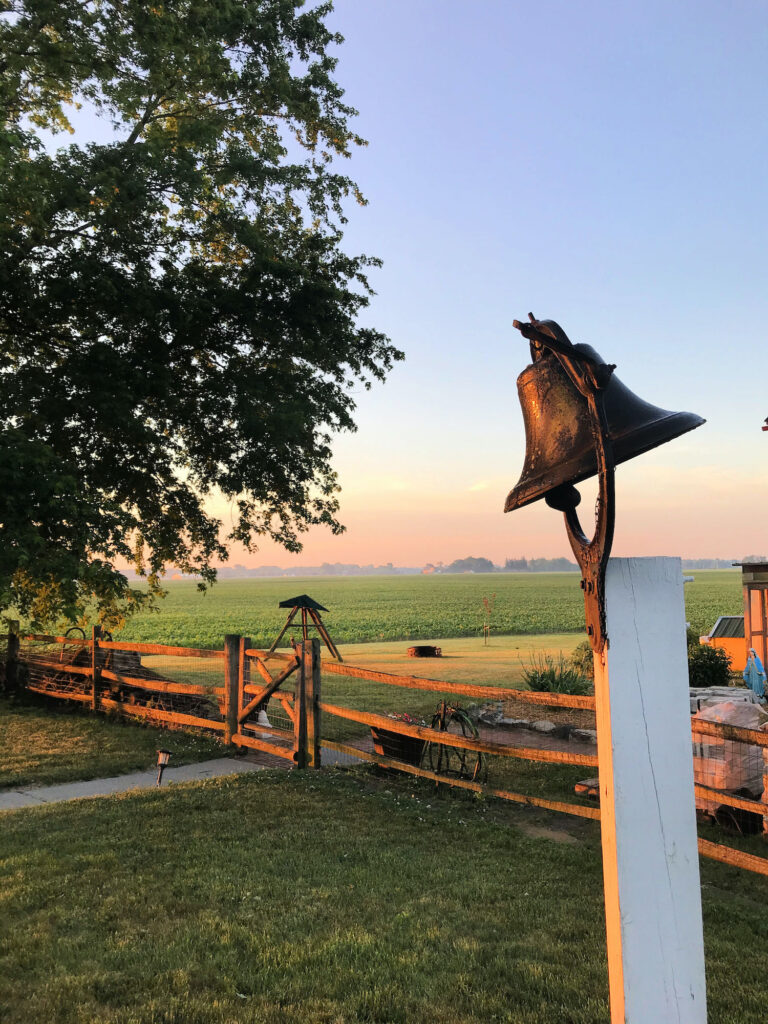 Not every remodeling or restoration project is massive, like our porch demo. We always look forward to the little ones that we can do over a weekend. They give us a sense of accomplishment while we chip away at the bigger jobs. Our farm bell makeover is an example of a simple DIY pick me up.
The Nostalgia of Farm Bells
Farm bells, or dinner bells, are classic farmhouse elements in my mind. I mean, you can't really beat this photo, right? It was taken during sunrise with the nature God created in all its glory. You can picture bells like this being used back in the 1800s to call men in from the fields at dinner time. Although you can still find them on many a farm, today their function is mostly decorative. When we first considered buying our fixer-upper farmhouse, I was thrilled that there was one on a post near our side entry. There have been plenty of times over the past two years that I went out and rang it to get Matt's attention when he's been working on something in his workshop. You need something loud to cut through the sounds of saws and country music!
I noticed the embossing of Crystal Metals and a USA 2 on the yoke of the bell. I wasn't able to find a lot of history on one that matches ours exactly. There is a company here in Ohio, C.S. Bell, that manufactured some similar to ours but the markings are different. I know schools and churches often had one like ours, too. I wish I knew how long it's been on the property, but alas. Let's get to the TLC we gave it.
How We Did Our Farm Bell Makeover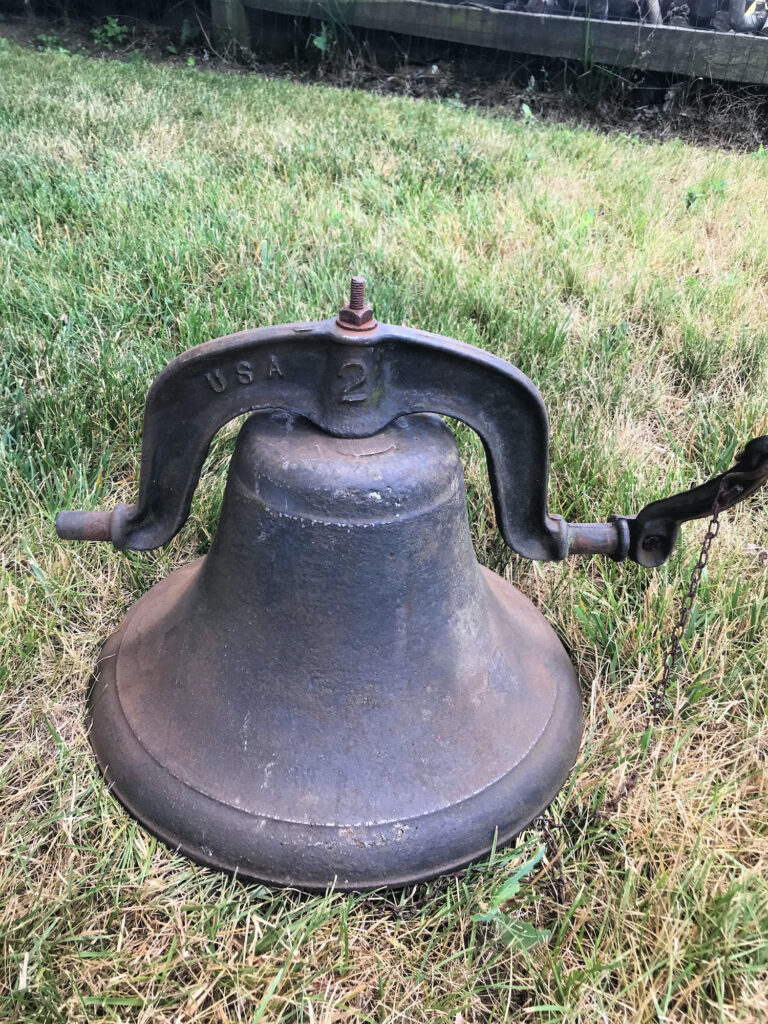 While we worked on our farm bell makeover, we noticed the cast iron was a little rusty and the pole was looking a little worse for wear. Here is the process we used to clean it up:
We removed the bell and sanded it down to remove as much rust as possible.
Next, the bell was wiped down with denatured alcohol.
We applied 2 coats of POR-15 Rust Preventive. TIP: Always put any remaining product in a new can or put plastic in between the lid and the can or the product in the rim will seal itself shut and you won't be able to get the can open again.
For the pole, we scraped the peeling paint and used a Diamabrush, attached to a grinder, to remove the remaining paint and decaying wood. TIP: Matt chose this tool instead of using a pressure washer so he could prime immediately after removing the paint instead of having to wait for the pole to dry.
We blew off any remaining remnants to make sure we had a clean surface.
Then we primed with Richard's Painter's Pride Alkyd Primer
We finished up with 2 coats of PPG Acri-Shield Max Exterior Eggshell Latex
We kept the pole white for that classic farmhouse look we both love.
Watch the Bell Makeover Video
Upping the Charm Quotient
Our farm bell is looking much prettier now. It's the little things that sometimes make a big difference. I'm hoping to eventually hang a sweet basket of flowers from a classic black hook, too. I think some pumpkins or corn stalks tied around the post this fall will be a quaint and lovely seasonal touch.
Do you have any smaller outside projects that you're working on? I'd love to hear your comments and ideas!